Every production is unique and with this approach I offer the following services as a freelance technician to artists, producers and companies providing for corporate events. I join any creative team with enthusiasm, wanting to share my know-how and competencies, all to make your creations a success.
Technical direction
Here's an impression of the variety of tasks that I can assume as technical director:
Recruiting and supervising teams of technicians;
Handling human, material, financial resources related to stage technology;
Researching potential equipment suppliers and preparing quotes;
Liaison for communication with the technical directors of the venues your productions will perform at;
Preparing your technical riders.
Portfolio: technical direction
Lighting design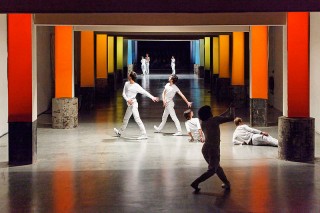 Lighting for me is full of psychology, science and has a strong artistic side at the same time.
My designs have contributed to various sorts of productions; from an amerindian shadow dance around one small light, up to a full-sized theatre full of fixtures.
Plans are usually produced in AutoCAD to facilitate calculating sightlines and make it easier to share with venues and other team members.
Just need someone to operate the console? I know several boards, such as ETC, Strand, Hog, MA.
Portfolio: Lighting design and lighting operations.
Rigging & automation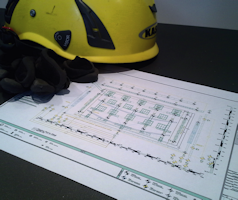 Shackles, bridles, hitches, SWL, chain hoists, truss spans… I speak the language!
Due to my engineering classes, I can provide you with the calculations you need and recommend the right equipment for your production. Want to program movements with variable speeds? No problem, there are several systems to choose from!
Need someone to install rigging points in a ceiling? I'm certified to work with fall-protection equipment and to operate platform lifts.
Sound engineering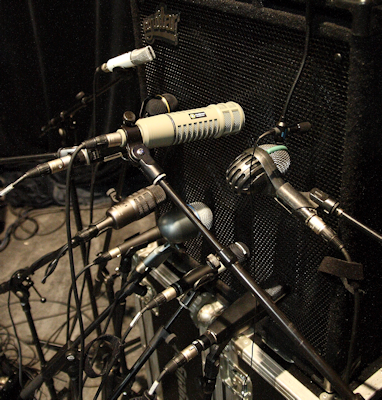 With a long musical history (piano, drums, DJ), three years of sound classes and over a decade of experience as a sound technician in the field, I'm ready to take on your challenges.
Some examples of tasks I can assume as sound engineer are:
Live mixing of stage productions or music;
Managing wireless microphones and in-ear systems;
Calibrating PA systems;
Operating sound consoles, analogue as well as digital (most notably specialized in the Yamaha desks: CL5, QL5, LS9, M7CL and the legacy series).
Portfolio: Sound operations.
Event IT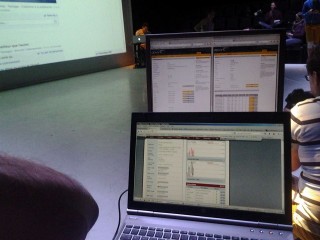 If your project has specific demands for IT that go beyond the comprehension of the office's IT technician? I offer solutions.
Network management (cabled and/or wireless) and internet connections for creative offices, festivals, interactive theatre productions and presenting venues, including planning and integration.
Adapting networks for use with specific protocols for lighting and sound, such as ACN, ArtNet, Dante and EtherSound.
Portfolio: Event IT.